UK
Dr Jill Biden reveals she was paid less than male teacher colleagues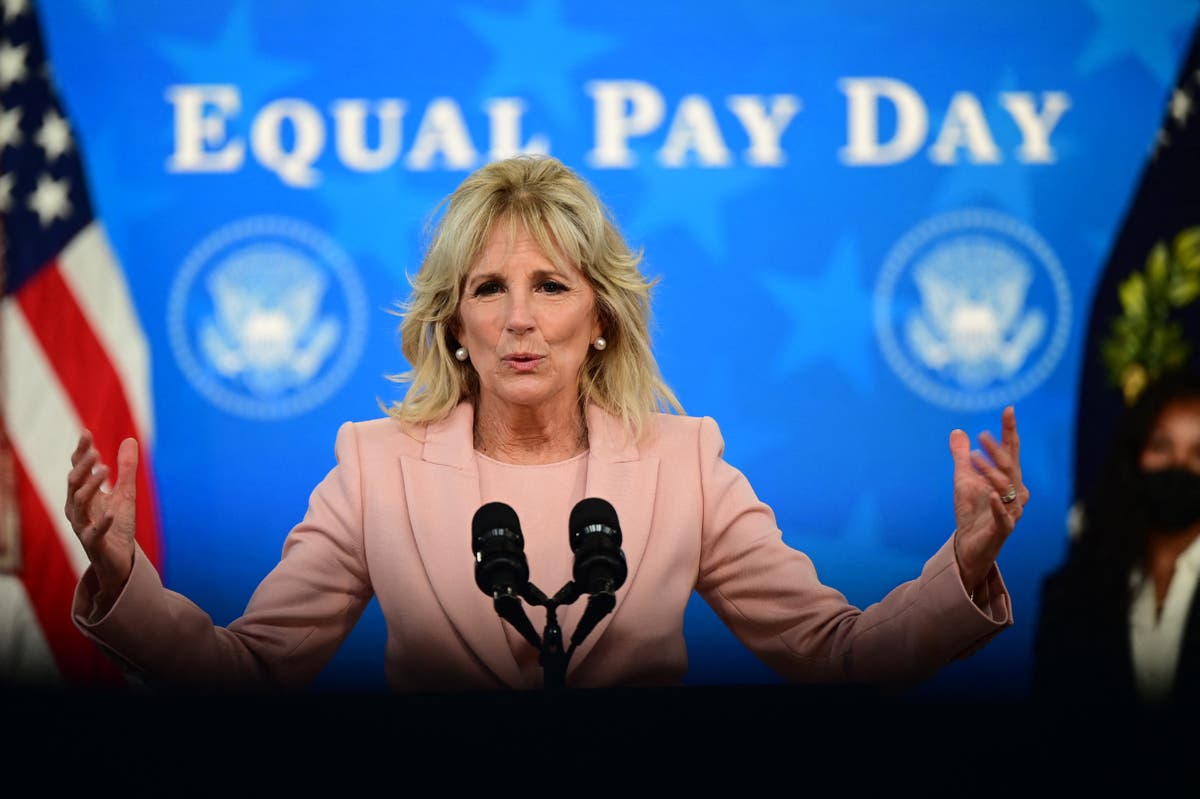 [ad_1]
Dr Jill Biden has revealed how she experienced unequal pay compared to her male colleagues while working as a teacher, as Megan Rapinoe explained how she felt "devalued" while working as a professional soccer player.
"It wasn't just the money … it was the lack of respect, the discrimination. Why was my work worth less?" Dr Biden said during a White House event to promote Equal Pay Day.
The incident happened in 1975 where the first lady said she was hired to her position around the same time as another male colleague. But Dr Biden found out she was making 25 per cent less than the male teacher – this despite them "working the same hours", having a similar grouping of students, and having similar experience levels, she added.
"There are women still in the same position," Dr Biden continued. "This is personal to me because it is personal to all women. It is one example of how we still treat women differently than men, and it is wrong."
One statistic Dr Biden cited was that women "have to work three months and 24 days longer to make the same amount as their male colleagues." For Black and Hispanic women, she added, it tends to be months longer.
On average, women make 82 cents to every dollar a man makes, which was why they had to work almost four months longer to earn the same income.
"Equal work deserves equal pay," Dr Biden added.
The event at the White House was to acknowledge that the United States still has strides to go so women can earn the same amount as their male colleagues for the same work.
The Biden administration invited Ms Rapinoe, Margaret Purce, and members of the US Women's National Team to the White House to discuss the issue, as the athletes have fought the US Soccer Federation for equal pay after receiving less than the men's team.
Ms Rapinoe mentioned the success of the US Women's National Team when speaking after Dr Biden, which has been the team's justification for why they should receive equal pay. This success included the team winning four World Cup championships, four Olympic gold medals, filling stadiums and more – yet they were still paid less.
"Despite those wins, I've been devalued, I've been disrespected, and dismissed because I am a woman," Ms Rapinoe said. "And I've been told that I don't deserve any more than less because I am a woman."
She went on to stress the need for policies to be in place that would support equal pay and prevent companies from participating in the injustices that women face in the workplace.
Then Ms Rapinoe introduced President Joe Biden as "one of our greatest allies" before he went on to sign a proclamation for National Equal Pay Day, 2021.
"Equal Pay Day is a reminder of the work that still remains to advance equity and ensure that all Americans have the opportunity to reach their full potential," the proclamation read. "This day is a symbolic representation of how far into this year women must work to catch up to what men made in the previous year."
After signing the proclamation, a reporter asked Mr Biden if he had any ability to change the situation for the women's soccer team that would give them equal pay to their male counterparts.
"If I could, it would have been done a long time ago," he responded.
[ad_2]
Source link